Mesin Penggilingan Tile Aluminium Aluminium
Deskripsi Produk:
Bagaimana dunia melihat melalui matamu? Di mataku adalah Metal Glazed Roof Tile Roll Forming Machine. Mengapa? Karena Metal Glazed Roof Tile Roll Forming Machine merupakan alat yang sangat bagus untuk membantu saya membangun rumah saya. Mesin ini bisa memproduksi berbagai macam atap logam dan lembaran dinding. Dan atap logam dan lembaran dinding ini cantik dan tidak pernah keluar mode. Yang lebih penting, harganya murah dan ringan tapi tahan lama. Dengan cara ini, rumah saya memiliki kehidupan yang lebih panjang dan melindungi keluarga saya dengan lebih baik.
Parpol teknis dari lini produk:

| | | |
| --- | --- | --- |
| No. | Item | |
| 1. | Processing Material | PPGI,GI |
| 2. | Processing Thickness(mm) | 0.3-0.6mm |
| 3. | Material of Rollers | 45# steel, with hard chrome coated |
| 4. | Diameter of Shaft | 76mm |
| 5. | Production Speed | 0-10m/min |
| 6. | Roller Driven | Decelerating Motor Chain Transmission |
| 7. | Cutting Model | Hydraulic Profile Cutting |
| 8. | Length Measurement | Encoder |
| 9. | Control Style | PLC |
| 10. | Operation Model | Touching Screen |
| 11. | Total Power | 8kw |
| 12. | Voltage | 380V 50HZ or at buyer's request |
| 13. | Testing Material | Q195 |
Ini terdiri dari Manual Uncoiler, Meja Makan, Mesin Pembentuk Gulungan Utama, Sistem Hidrolik, Mekanisme Geser, Lemari Kontrol Komputer.

Keterangan lebih lanjut: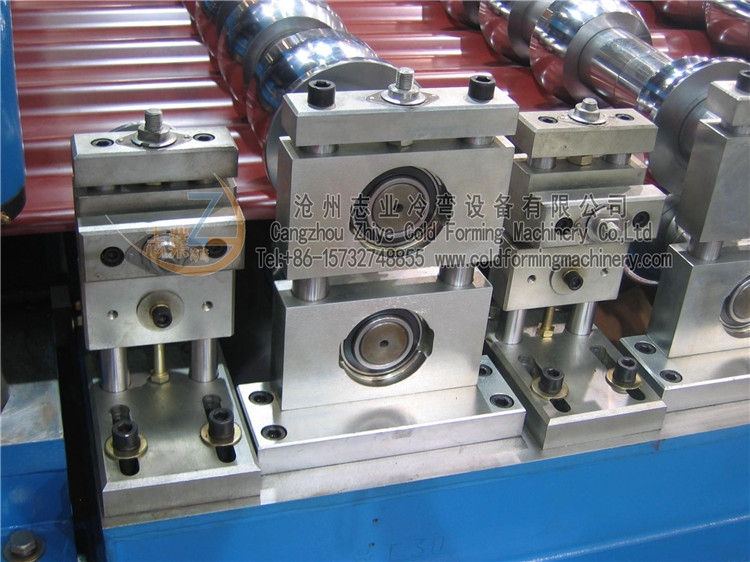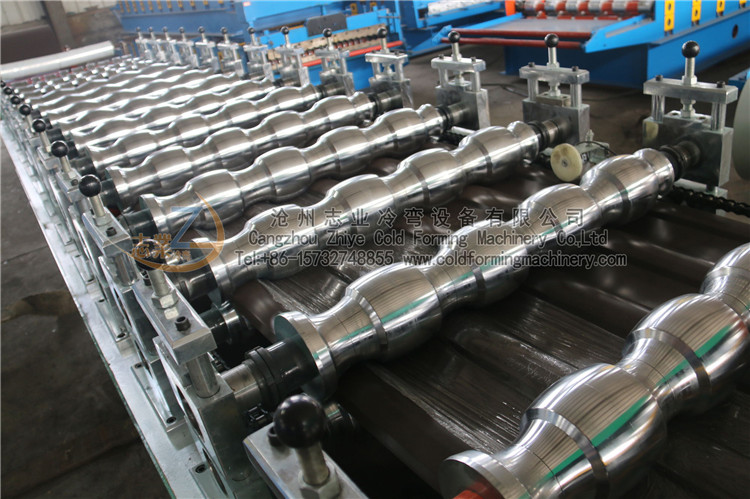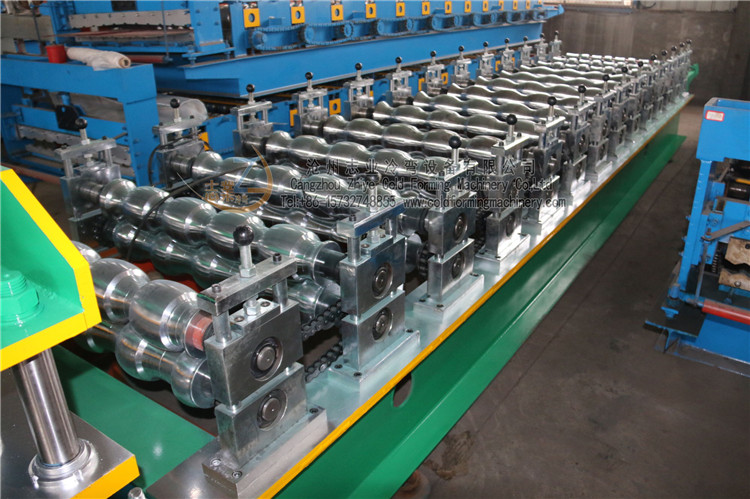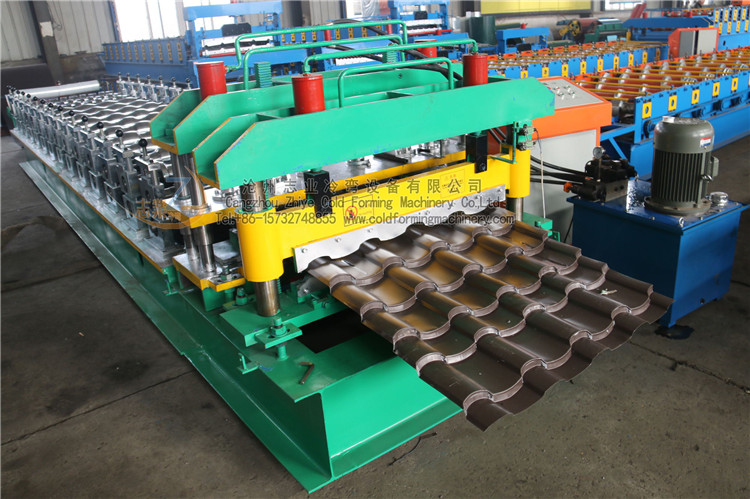 Kontak informasi:
Tel: +86 18833785938
WhatsApp: +86 18833785938
WeChat: 18833785938
Kemasan & Pengiriman:
1, Kami memiliki teknisi profesional untuk pemuatan Barang yang Dijamin dimuat ke dalam wadah tanpa ada kerusakan.
2, Nude, dengan kain tahan air dan kayu lapis. Sistem kontrol komputer yang diimpor dikemas dengan kain tahan air dan papan kartu.
3,30 hari kerja setelah menerima deposit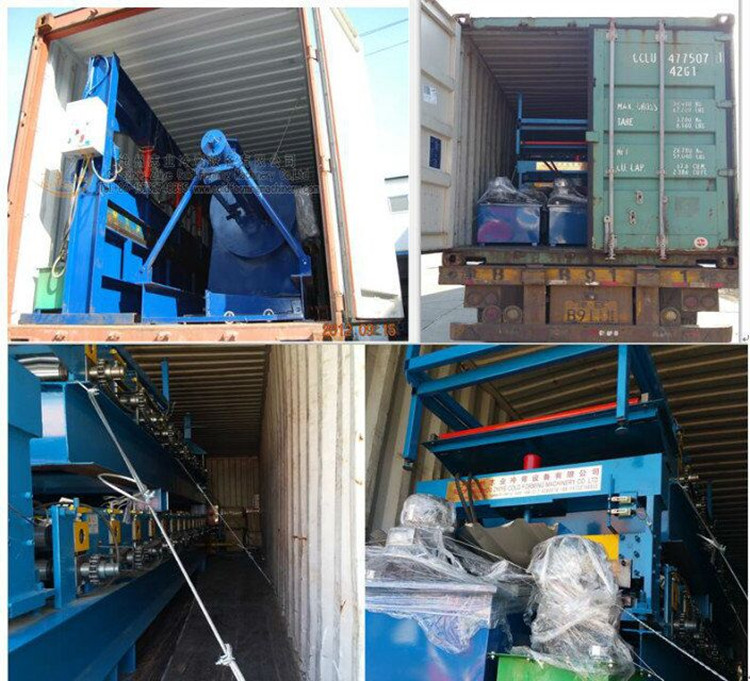 Layanan kami:
Kami memberikan dukungan teknis untuk seumur hidup. Sementara jika ada bagian yang rusak dan bukan kerusakan buatan, kami akan mengirimkan yang baru secara gratis. Saat membutuhkan teknisi untuk pergi ke luar negeri, kami akan mengatur teknisinya. Namun pembeli harus mengambil semua biaya, termasuk Visa, tiket ulang tahun, akomodasi yang sesuai dan membayar biaya layanan kepada teknisi dengan harga $ 150 / hari.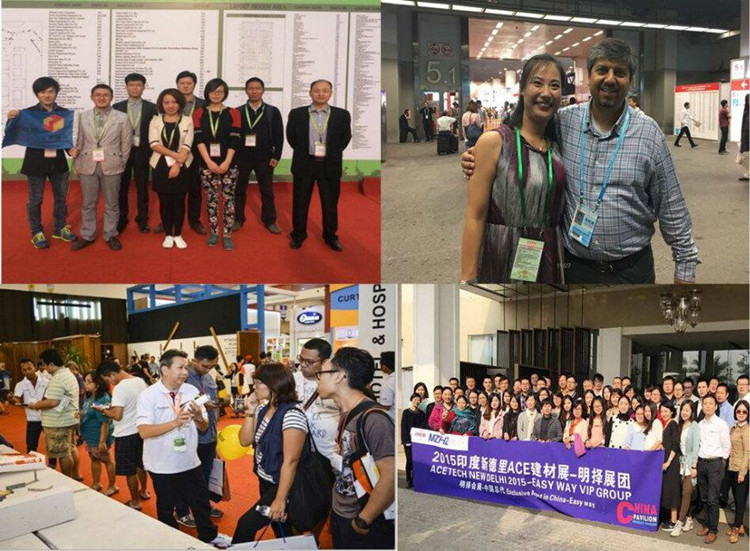 Kontak informasi:
Tel: +86 18833785938
WhatsApp: +86 18833785938
WeChat: 18833785938
Informasi perusahaan:
* Cangzhou Zhiye Dingin Pembentukan Machinery Co, Ltd didirikan pada tahun 1996, kami mengkhususkan diri dalam berbagai membentuk mesin dan produk otomatis lines.Main produksi dingin: atap / dinding panel mesin roll forming, genteng roll membentuk mesin, C / Z / U purlin roll membentuk machiens, lantai decking roll membentuk mesin, rangka baja truss roll membentuk mesin, pipa roll membentuk mesin, dan machiens kustomis.
* Produk kami pada skala besar telah dijual ke lebih dari 50 negara dan wilayah, untuk Rusia, Myanmar, Mongolia, Rumania, Irak, Korea Selatan, Kanada, Mozambik Bahrain, Bolivia, Angola, Paraguay, Turki, Sri Lanka, dll. penampilan, konstruksi yang masuk akal, desain genteng yang cantik telah memenangkan apresiasi dan penghargaan universal dari pelanggan di seluruh dunia.
* [Menetapkan bisnis jangka panjang, menemukan merek seratus tahun "adalah tujuan perusahaan. Kami sangat berharap bisa menciptakan masa depan yang lebih baik dengan Anda sama sekali.


Banyak digunakan: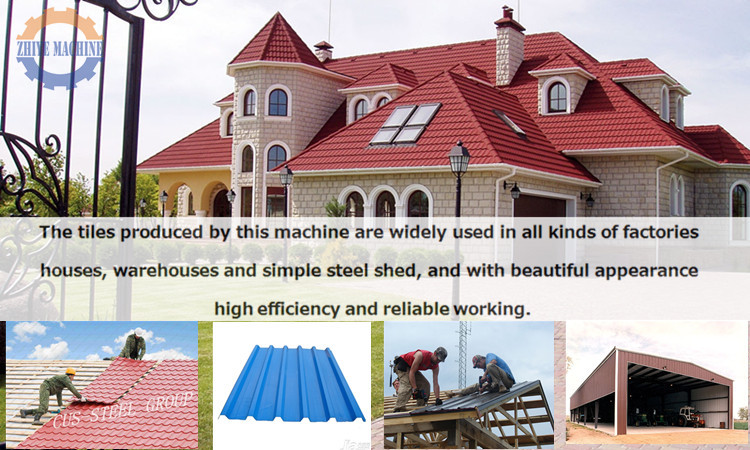 Hubungi kami: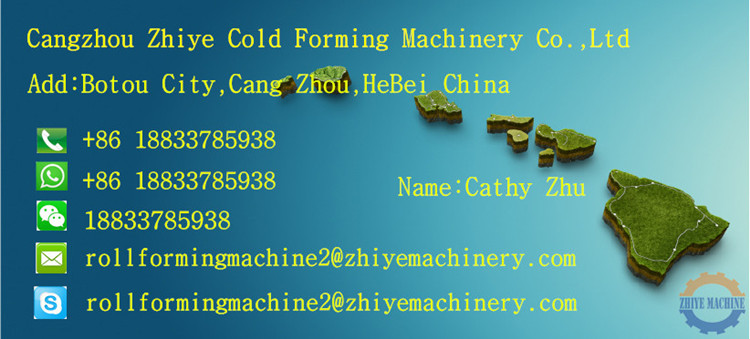 Kategori Produk : Lapisan Penggilingan Tebal Atap Berglasir