Lini Produksi Mesin Ubin Berkaca
Informasi produk:
Baris ini tidak memiliki batasan panjang pemrosesan. Produk itu digunakan sebagai genteng dan panel dinding di luar gedung, untuk meningkatkan keindahan dan keawetan genteng dan panel dinding. Garis penghasil ini menggunakan lembaran baja galvanis, pelat baja berwarna atau pelat aluminium sebagai pelat material.
No.

The Production Line Of Glazed Tiles Machine




1

roller station

12 roller stations

2

speed of production

0-2m/min

3

Voltage

380V, 50HZ, 3phases

4

width of steel sheet

1200mm




5

dimensions

6.92*1.45*1.51m

6

thickness of steel sheet

0.3-0.6mm




7

Material of cutting blade

Cr12

8

Hydraulic

#40

9

Control system

PLC system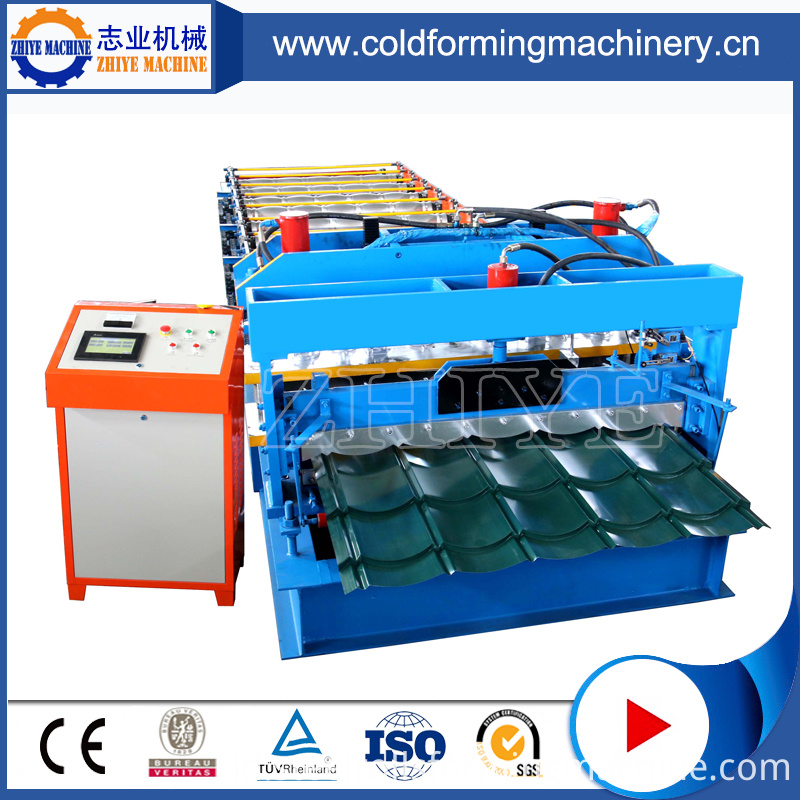 1. Manual Uncoiler:

Penggunaan: Ini digunakan untuk mendukung kumparan baja dan melepaskannya dengan cara yang dapat dilakukan. Kumparan baja tidak dilapisi dengan tangan.
Kapasitas muat: 5T
Diameter dalam: 500-508mm
2. Meja Makan:
Letakkan bahan baku (plat baja) melalui pantai untuk pembuatan dan prosesnya, bisa menjamin bahwa produknya rapi. Paralel dan semuanya keseragaman. Silakan mengacu pada peraturan peralatan untuk mengetahui fungsi dari posisi besi sudut.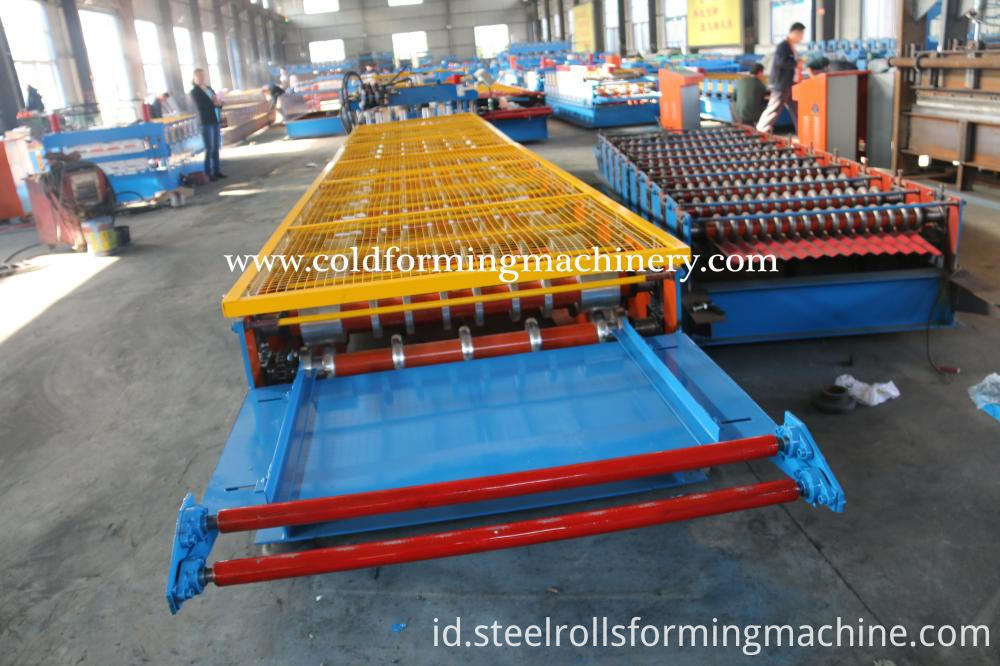 3. Main Roll Forming Machine:
Bahan rol: 45 # baja, permukaan rol polishing, pelapisan keras. Permukaan yang dipoles dan perlakuan panas terhadap cetakan juga dapat menjaga cetakan. Pelat permukaan halus dan tidak mudah ditandai saat sedang dicap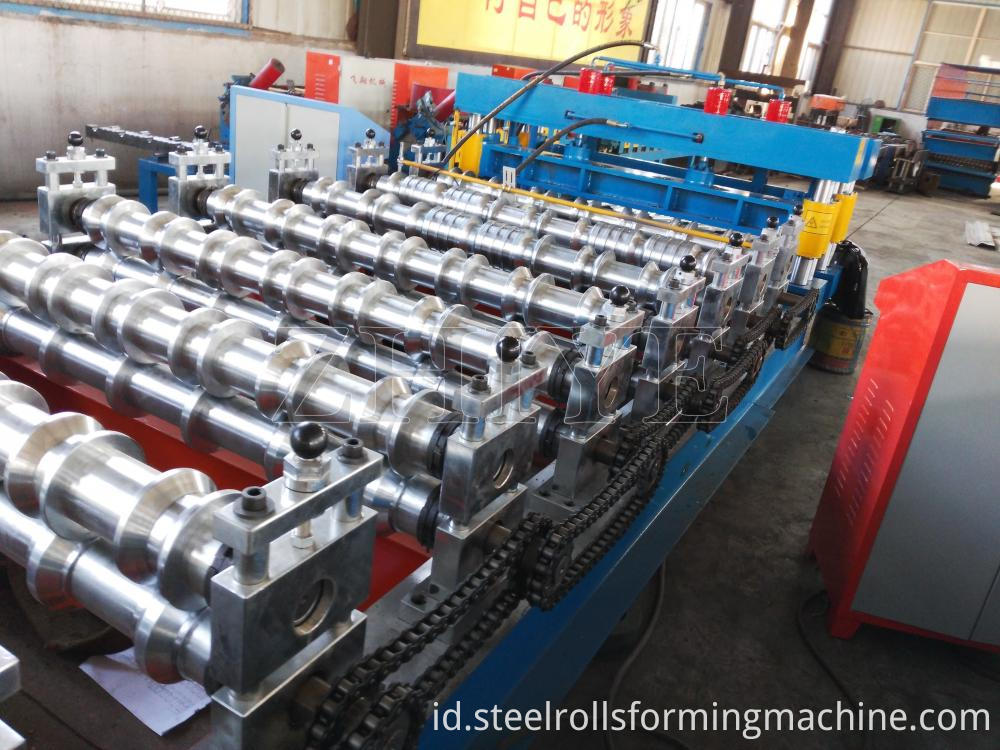 4. Sistem Hidrolik:
Minyak hidrolik: 40 #.
Minyak hidrolik ke dalam tangki minyak hidrolik, pompa menggerakkan mesin pemotong untuk memulai pekerjaan pemotongan.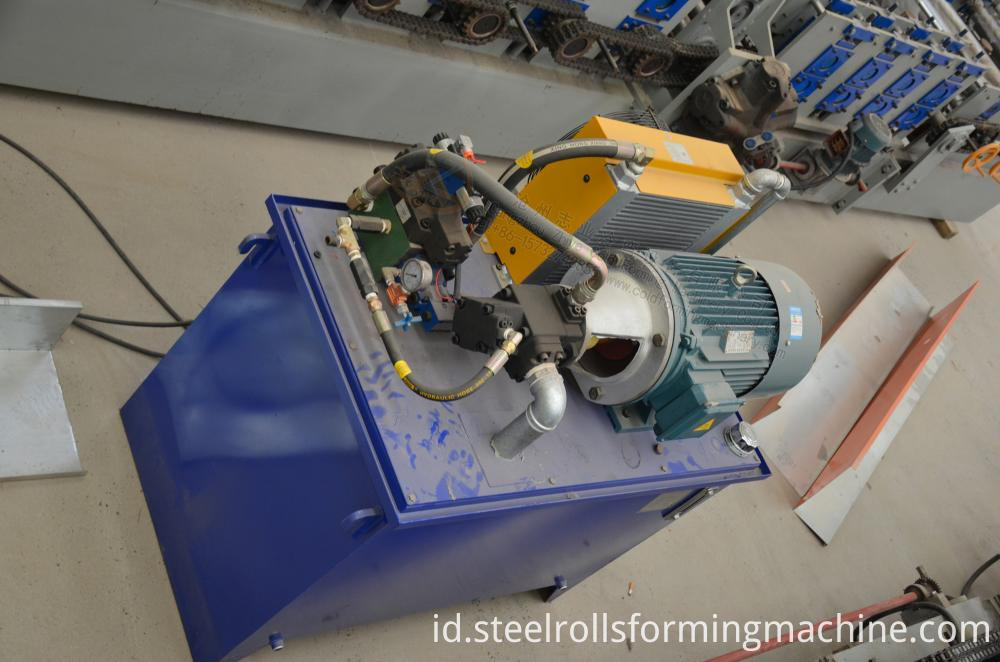 5. Mekanisme geser: Ini menggunakan drive hidrolik dan lokasi otomatis untuk menentukan dimensi dan memotong produk target. Bahan pisau: Cr12, quenching treatment.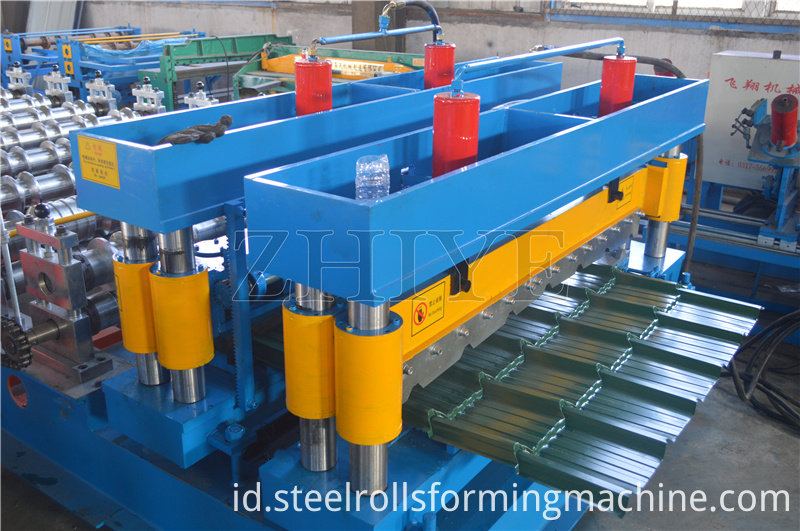 Paket dan Pengiriman:
Tile Glazed Pembentukan Garis paket: Nude, dengan kain tahan air dan menyelundup-kayu. Sistem kontrol komputer yang diimpor dikemas dengan kain tahan air dan papan kartu.
30 HARI KERJA SETELAH MENERIMA DEPOSIT
Pelayanan kami:
Kami memberikan dukungan teknis untuk seumur hidup. Sementara jika ada bagian yang rusak dan bukan kerusakan buatan, kami akan mengirimkan yang baru secara gratis. Bila butuh teknisi untuk pergi ke luar negeri, kami akan mengatur teknisi. Tapi pembeli harus mengambil semua biaya, termasuk Visa, tiket ulang tahun, akomodasi yang sesuai dan membayar biaya layanan kepada teknisi dengan harga $ 150 / hari.
Informasi perusahaan:
Cangzhou Zhiye Dingin Pembentukan Machinery Co, Ltd Kami memproduksi semua jenis roll dingin membentuk mesin, kami utama pasokan trapesium atap lembaran roll membentuk mesin, mengkilap mesin genteng roller, C & Z purlin bergulir Membuat mahcine dan baja ringan keel kerangka mantan line.And Produksi Line of Glazed Tile Machine
Kontak:
Kategori Produk : Lapisan Penggilingan Tebal Atap Berglasir