Deskripsi Produk
Informasi umum untuk The Step Roofing Tiles Cold Forming Line
Ubin yang diproduksi oleh mesin ini banyak digunakan di semua jenis pabrik, rumah, gudang dan gudang baja sederhana, dan dengan penampilan cantik, efisiensi tinggi dan kerja yang dapat diandalkan. Ini terdiri dari platform makan, inti cetakan utama, mekanisme geser, stasiun hidrolik, Kabinet kontrol komputer, counter presisi tinggi dan sebagainya.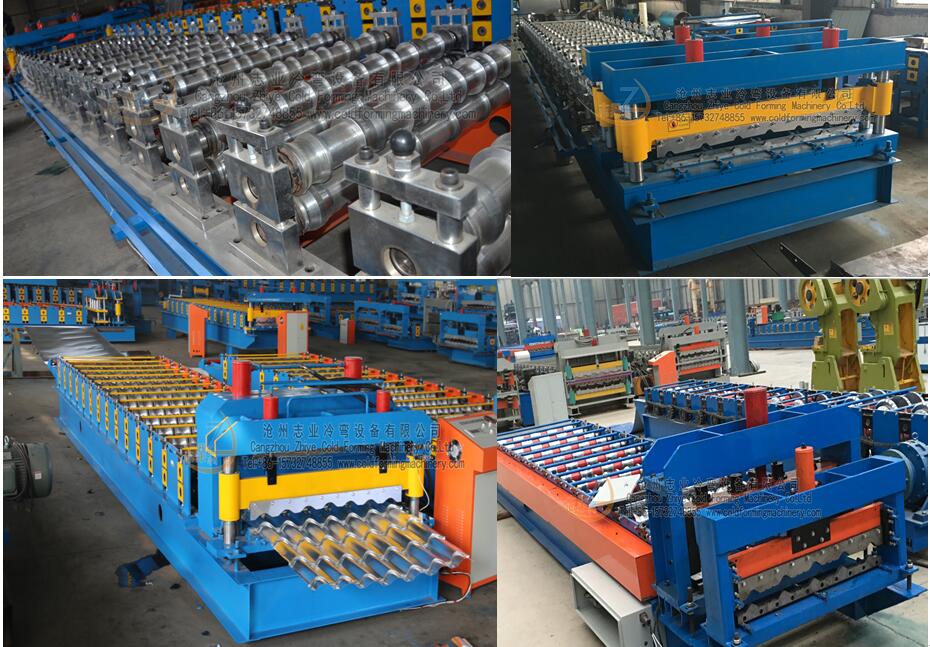 Suku Cadang dari The Roofing Tile Roofing Cold Forming Line
1. Decoiler Manual dan hidrolik bagian gaya sepenuhnya otomatis
Penggunaan: Ini digunakan untuk mendukung kumparan baja dan melepaskannya dengan cara yang dapat dilakukan. Pasif uncoil ditarik dengan sistem roll forming
2. Coil makan bagian
Penggunaan: Letakkan bahan baku (plat baja) melalui pantai untuk memproduksi dan proses, dapat menjamin bahwa produk yang rapi, sejajar dan semuanya keseragaman.
Silakan mengacu pada peraturan peralatan untuk mengetahui fungsi dari posisi besi sudut.
3.Main roll membentuk bagian mesin
Penggunaan: Dalam rangka menjaga bentuk produk dan presisi, mengadopsi struktur lembar dilas, motorik peredam drive, transmisi rantai, roller yang chrome yang dapat menjaga permukaan cetakan plat halus dan tidak mudah untuk ditandai ketika bekerja
4.Automatic Cutting System
Komponen: Ini berisi satu set pisau, satu tangki hidrolik dan satu mesin pemotong
5. Komputer mengendalikan bagian
1) .PLC merek: Biasanya, itu adalah Delta. Mitsubishi, Panasonic, adalah pilihan opsional. 2). Model kerja: sepenuhnya otomatis dan manaul.
6. stasiun hidrolik
1) .including satu motor, satu tangki minyak, salah satu katup magnet, satu tekanan pengukuran, tabung oli hidrolik. 2) .3kw, 4kw, 5.5kw, akan diadopsi sesuai lembar profil Anda.
The Step Roofing Tiles Cold Forming Line dapat dimasukkan ke dalam wadah 20 'atau 40'. Bagian mesin pembuat gulungan utama dikemas telanjang sementara bagian komputer dan motor dikemas dengan kain tahan air.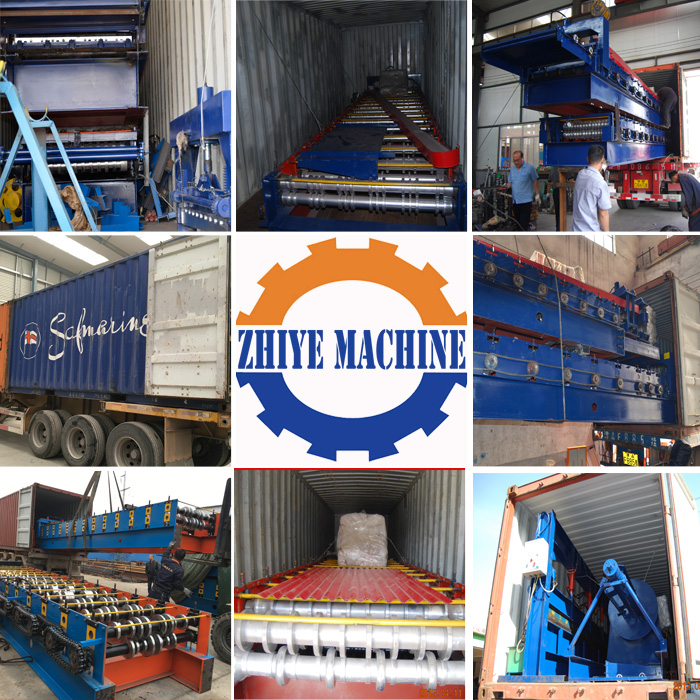 informasi perusahaan
Cangzhou Zhiye dingin membentuk Machinery Co, Ltd adalah produsen khusus dalam berbagai dingin membentuk Mesin dan jalur produksi otomatis. Produk utama adalah: mesin 1. atap / dinding panel roll membentuk, 2. ubin roll membentuk mesin, 3. C / U / Z purlin roll membentuk mesin, 4. lantai penghiasan roll membentuk mesin, 5 rangka baja truss mesin roll forming, 6. pipa roll membentuk mesin, 7. Langkah Atap Ubin Dingin Pembentukan Baris
Dalam beberapa tahun terakhir, produk-produk kami pada skala besar telah dijual kepada lebih dari 50 negara dan wilayah, Thailand, India, Malaysia, Turki, Arab Saudi, Rusia, Albania, Armenia, t dia Amerika Serikat, Grenada, Bolivia, Kolombia, Chili, Afrika Selatan, Kenya, Tanzania, Mesir dan lain-lain, dan telah memenangkan penghargaan dan penghargaan universal dari pelanggan di seluruh dunia.